Time flies, the years go by so fast. Busy 2017 is over, 2018 comes to us. New year gives birth to new goals and hopes, Anhui Sinograce Chemical Co.,Ltd hold the New Year's annual party at Chaohu Country Garden Phoenix Hotel in Feb.,2, 2018. All staffs of sinograce and co-company leaders gathered together to share together.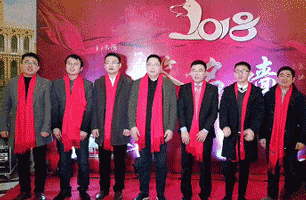 Warm guitar accompaniment, brilliant pendulum, graceful solo girl's singing, elegant solo boy's singing , sketches which make people laugh out loud, and the gripping magic show, party show is unusually brilliant, dizzying. Interspersed lottery draw had gradually moved the atmosphere to the climax. This party not only brings laughter, but also makes colleagues closer to each other. Singing, applause, and cheering have been rippling on the party.

The glorious 2017 has passed, and 2018 of hopes and challenges come quietly. In the past year, we have smiled, survived and harvested. In 2018, we are full of longing and passion. Let's stand up our sleeves and try our best to create a better tomorrow.